Our Commitment
Our Vision, Mission and Values
Our Vision… Creating communities where people of all ages achieve all they can be.
Mission: We make the difference… pioneering services for individuals in a caring community.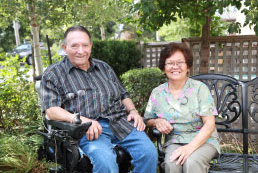 What we Value… People
Participation ~ Make It Happen
Excellence ~ Go Beyond
Openness ~ Listen, Care, Share
Performance ~ Pursue Your Personal Best
Longevity ~ Think Today, Think Tomorrow
Efficient Use of Resources~ Conserve, Innovate, Share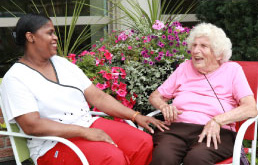 People Make the Difference
Our vision is everything we aspire to be in the future. Our mission is our unique purpose as an organization – our reason for existing. Our values are the essential beliefs and guiding principles that we live by each day. They ground us and help us to stay focused so we can achieve our vision and mission. Our values are what guide us in making decisions – whether big or small – every day.
Person Centered Care Philosophy
The O'Neill Centre recognizes the unique aspects of each resident and is committed to provide care and services that foster a culture of autonomy, diversity, and individual choice.
We adhere to and promote the Residents' Bill of Rights under the Long-Term Care Homes Act, 2007 which states that the long term care home is primarily the home of its residents and is a place where they may live with dignity and in security, safety and comfort and have their social, spiritual and cultural needs adequately met.
The O'Neill Centre is committed to promote healthy aging and well-being through programs and services that focus on all aspects of care (physical, emotional, spiritual, cultural, cognitive/ intellectual, social) and maximize or maintain the independence of the residents. The Restorative Care Philosophy further supports this commitment and philosophy of person centered care.
We believe in supporting positive relationships among residents, families, personnel and community supports. We encourage residents to stay connected and active in the community through attending spiritual groups, social groups, community agencies, etc.
We foster a culture in which residents are empowered to make choices and decisions about the care and services that they receive and which help them to achieve their goals, celebrate memorable and special events thereby promoting their quality of life.
We believe in an inter professional and collaborative approach to planning and providing care and services in which residents, families and personnel make decisions based on preferences, strengths, and needs.
We actively promote and support ongoing training and education programs to enhance personal and professional growth that will foster a person centered philosophy of care. We are committed to providing care that is evidence based and/or based on the best prevailing practice(s).
Personnel at all levels of the organization obtain feedback from residents through satisfaction surveys and questionnaires as well as forums such as Residents Council and Family Council. Input from residents is used in a positive and meaningful way to strengthen our philosophy of person centered care and our commitment to uphold ethical principles and the organizational vision, mission and values.