Resident Programs
Programs and Recreation:
Activity is an essential part of an individual's life whether recreational or occupational.
The O'Neill Centre delivers excellent programming for residents with varying stages of abilities. Our Programs team has developed a wide range of programming and services to engage residents of all ages.
Recreation programs offer the opportunity to build self-esteem, maintain social contacts and community relationships, develop new friendships, recreate past knowledge and create new learning opportunities that contribute to the well-being of the resident.
Options include:
Fitness activities
Music clubs
Horticultural programs
Multi-faith spiritual services
Visiting Pets
Cultural and Community events
Art and creative pursuits
Holiday celebrations
Access to computers and library services
Programs that help residents with dementia to rediscover old skills
Cultural dinners
Wii programs
Chinese fan dance
Intergenerational programs.
Our professionals also customize programs to suit individual needs.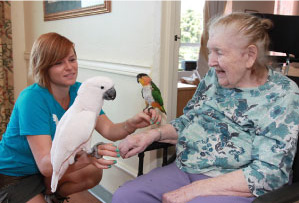 Rehabilitation and Physiotherapy:
The O'Neill Centre offers a range of physiotherapy and rehabilitation services. There are also alternative therapies and restorative care programs available. Each new resident is assessed to determine an appropriate physiotherapy regime shortly after admission. Our objective is to maintain and restore residents' current abilities and strengths through a variety of physical programs designed to meet individual needs.
Peritoneal Dilaysis (PD) Program:
In partnership with Toronto Western Hospital – Home Peritoneal Dialysis Unit (HPDU), The O'Neill Centre has been providing on-site peritoneal dialysis treatment since 1999. The O'Neill Centre's Peritoneal Dialysis Program is the first of its kind in long term care and today is the model for care supported and promoted by The Ministry of Health and Long Term Care.
The program offers individuals with renal disease that require peritoneal dialysis the opportunity to receive their daily treatment by fully trained registered staff at the home. The staff receives ongoing support and training by the HPDU on a regular basis. In addition to on site care, a nurse from HPDU visits the home regularly and completes rounds with the unit nurse for the peritoneal dialysis residents. Monthly, the Nephrologist from HPDU visits the home to complete outpatient care that would otherwise have been performed at the hospital clinic. Equipment and supplies related to the dialysis treatment are a part of the service and are at no extra cost to the resident.
The program offers several benefits; including residents having the ability to enjoy an active lifestyle as they are being dialyzed during the evening hours. Additionally, providing on site dialysis also eliminates the need for travel to and from hospital for regular treatments.
Residents and their families have expressed that the program is both supportive and comforting.